Power Range:
800 - 1100 VA
Gama Vision Rack este disponibilă în variantele 800 la 2000 VA, cu tehnologie digitală sinusoidală.
Gama Vision Rack, cu opțiunile sale avansate de comunicare și conectivitate, este ideală pentru instalații care necesită protecție și versatilitate superioară a sistemului de alimentare cu energie. Gama Vision Rack este ideală pentru protecția dispozitivelor periferice de rețea, a serverelor și a sistemelor de backup rețea.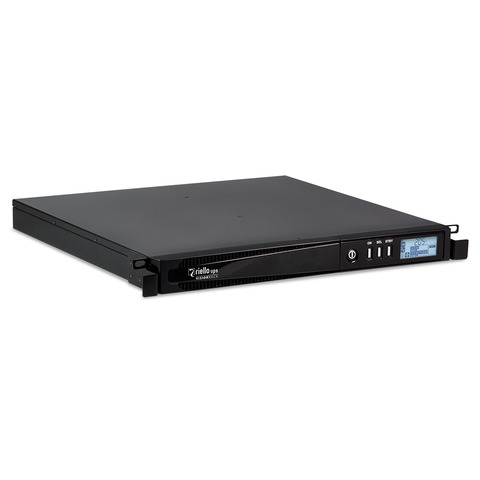 Brochures and data sheets
Technical specifications of the model
Protecție superioară
Gama Vision Rack utilizează tehnologia Line Interactive și oferă tensiune ieșită sinusoidală. Această tehnologie asigură un nivel de eficiență de 98%, reducând astfel consumul de energie și asigurând de asemenea un nivel ridicat de protecție împotriva perturbărilor din rețea.
Regulatorul automat de tensiune (AVR) protejează împotriva supratensiune și subtensiunii, fără intervenție asupra bateriei.
Utilizarea redusă a bateriei asigură o disponibilitate de 100% a bateriei în cazul căderilor de tensiune și oferind de asemenea o mai mare autonomie.
Filtrele EMI oferă o protecție suplimentară la supratensiune și tranziente de tensiune.
În cazul unor căderi de tensiune, alimentarea este preluată de invertor, asigurându-se o alimentare perfect sinusoidală pentru continuitate și fiabilitate maximă a alimentării
Disponibilitate ridicată
Mufa EnergyShare permite întreruperea controlată a curentului electric și închiderea dispozitivelor periferice mai puțin sensibile, pentru a prelungi durata de operare a bateriei pentru consumatori critici.
Bateriile "Hot Swap" se pot îndepărta din panoul frontal, pentru o întreținere ușoară și sigură a UPS-ului.
Sistem de testare a bateriei pentru a detecta scăderea performanțelor bateriei.
Protecție la descărcarea completă, pentru a reduce uzarea bateriei.

Versatilitate
Funcția Cold Start (Pornire la rece) permite deschiderea UPS-ului fără alimentare de la rețea.
Comunicații avansate
Comunicații avansate multi-platformă pentru toate sistemele de operare și mediile de rețea: soft de supervizare și închidere PowerShield3 pentru sistemele de operare Windows 10, 8, 7, Hyper-V, 2019, 2016, 2012 și versiuni anterioare, Mac OS X, Linux, VMWare ESXi, Citrix XenServer și alte sisteme de operare Unix
Interfață port USB sau R232 serial (selectabilă)
Slot de expansiune pentru plăci de interfață
Informații legate de stare, măsurători, alarme, parametrii de intrare, ieșire și baterie disponibile pe afișajul LCD.
2 ANI GARANȚIE