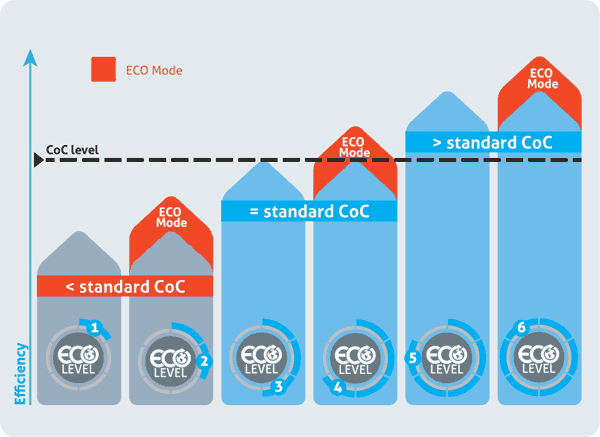 Riello UPS uninterruptible power supplies power some of the most critical data centres and servers in use today.
Within these environments, energy management is critical. Running costs must be minimised without
compromising resilience, i.e. the ability to adapt to adverse external conditions whilst ensuring the complete availability of the services provided.
Equipment must operate at the highest possible levels of efficiency to reduce the strain on critical power supplies and minimise the effect on the installation area.
Riello UPS models have always been compliant with the highest levels of efficiency in terms of energy protection and are classified according to a scale with 6 levels, corresponding with the efficiency
value of the UPS with respect to the European Code of Conduct; this is known
as the Eco Energy Level.
The ECO Energy Level is a tool implemented by Riello UPS to help customers to identify the Riello UPS products with the highest levels of efficiency in terms of energy protection; the 6 levels have recently been updated to comply with the stringent new efficiency levels that the CoC requires for 2013-2014.
In addition to this, the availability of the Smart Mode provides a further method for improving efficiency, improving the Eco Energy Levels assessment.
The Eco Energy Level system demonstrates how the most efficient UPS provide energy savings that allow the cost of their purchase to be recovered quickly compared to standard efficiency UPS, as well as how their use leads to significant reductions in carbon emissions into the atmosphere.