Power Range:
600 - 2000 VA
Ideal pentru protecția PC-ului.
Seria Net Power este disponibilă în variantele 600 – 2000 VA, cu tehnologie digitală: când este disponibilă, alimentarea se face de la rețea, tensiunea fiind stabilizată de un regulator automat de tensiune (AVR) și trecută prin filtrele EMI pentru a asigura protecția la supratensiune.
În cazul unei căderi de tensiune, alimentarea este preluată de un invertor pseudo-sinusoidal, pentru a oferi a oferi suficient timp pentru închiderea calculatorului folosind softul PowerShield³, care se poate descărca gratuit de la adresa www.riello-ups.com.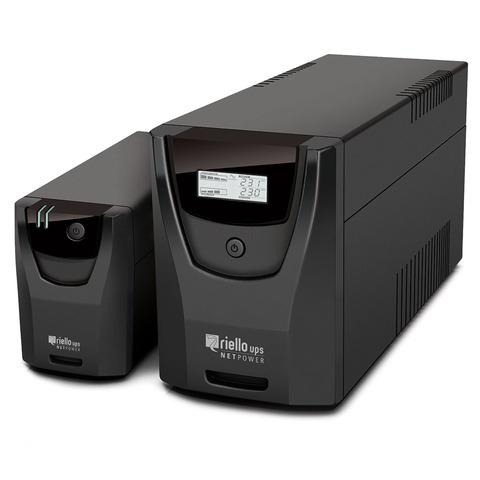 Technical specifications of the model
Caracteristici
Stabilizarea și filtrarea tensiunii de la rețea cu ajutorul regulatorului AVR și a filtrelor EMI pentru eliminarea perturbărilor atmosferice
Posibilitate de deschidere a UPS-ului fără alimentare de la rețea (pornire la rece)
Fiabilitate ridicată a sistemului incorporat de testare a bateriei
Auto-restart (la revenirea curentului, după descărcarea bateriilor)
Se livrează cu două cabluri IEC pentru alimentare.
2 ANI GARANȚIE