Power Range:
700 - 3000 VA
Sentinel Pro are un design unic, modern și performanță îmbunătățită, creat de echipa de cercetare și dezvoltare a Riello UPS. Sentinel Pro folosește tehnologia de conversie dublă ON LINE, ceea ce duce la cele mai înalte niveluri de fiabilitate și protecție maximă pentru încărcări critice, cum ar fi servere, și aplicații IT și voce / date.
Pentru aplicațiile de continuitate a afacerii care necesită o durată lungă de baterie, autonomia bateriei poate fi extinsă până la câteva ore folosind modele ER dotate cu încărcătoare de baterii mai puternice.
Panoul frontal de afișare a fost reproiectat complet, adăugându-se un afișaj LCD care arată tensiunile de intrare și ieșire, citirile bateriei și informațiile despre starea de operare a UPS-ului. Invertorul și stadiul de control al microprocesorului au fost complet reproiectate pentru a oferi eficiență crescută și opțiuni de configurare mai mari.
Extensibilitate maximă: Sentinel Pro este furnizat în mod standard cu un port USB și un slot de expansiune pentru conversie de protocol sau plăci de contacte releu. Având în vedere economiile de energie, Sentinel Pro este prevăzut și cu un buton de închidere pentru a reduce consumul de energie la zero în timpul perioadelor de inactivitate prelungite (ECO LINE). Sentinel Pro este disponibil în modele 700 VA, 1000 VA, 1500 VA, 2200 VA și 3000 VA.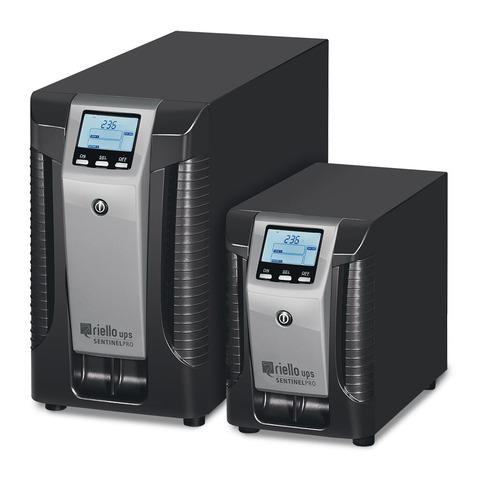 User's manual Sentinel Pro
For Serial number MZ01VOD20001 and following
Brochures and data sheets
CEI 0-16 compliance
Indications for compliance with the medium voltage standard
en
de
es
fr
hu
nl
pl
ro
ru
vn
zh
Technical specifications of the model
Caracteristici
Tensiune filtrată, stabilizată și fiabilă: tehnologie de conversie dublă on-line (VFI conform cu IEC 62040-3), cu filtre pentru suprimarea perturbărilor atmosferice
Rezistență ridicată la suprasarcină (până la 150%)
Auto-restart programabil la revenirea curentului
Pornire cu baterie (pornire la rece).
Corecție factor de putere (factor putere intrare UPS, aproape 1)
Interval ridicat de toleranță la tensiune intrată (între 140 V și 273 V), fără intervenția bateriei
Durată de funcționare extensibilă la câteva ore
Configurare completă, folosind softul de configurare a instrumentelor UPS
Baterii cu fiabilitate ridicată (testare automată și manuală a bateriilor)
Fiabilitate ridicată a UPS-ului (control total microprocesor)
Impact redus asupra rețelei electrice (preluare sinusoidală).
Comunicații avansate
Comunicare multi-platformă pentru toate sistemele de operare și mediile de rețea: software de supraveghere și oprire PowerShield³ pentru sistemele de operare Windows 10, 8, 7, Hyper-V, 2019, 2016, 2012, și versiuni anterioare, Mac OS X, Linux, VMWare ESXi , Citrix XenServer și alte sisteme de operare Unix
Soft configurare și personalizare instrumente UPS, ca standard
Interfață port R232 serial și contacte opto-izolate
Port USB
Slot pentru plăci de comunicații
2 ANI GARANȚIE