Network card
Agentul de rețea NetMan 208 permite UPS-ului conectat la o rețea LAN 10/100/1000 Mb să fie supravegheat utilizând principalele protocoale de comunicație in rețea (TCP /IP , HTTP HTTPS, SSH, SNMPv1, SNMPv2 and SNMPv3). Reprezintă soluția ideală pentru integrarea UPS prin rețea Ethernet cu protocol Modbus/TCP și BACnet/IP. A fost dezvoltat în scopul de a permite integrarea UPS în rețele medii sau mari, pentru a oferi un înalt nivel de fiabilitate în comunicația dintre UPS și sistemele asociate de management.
Noile facilități includ autentificarea utilizatorilor prin LDAP și Active Directory precum și integrarea deplină cu VMware's Esxi și vCenter server pentru shutdown al VM și host.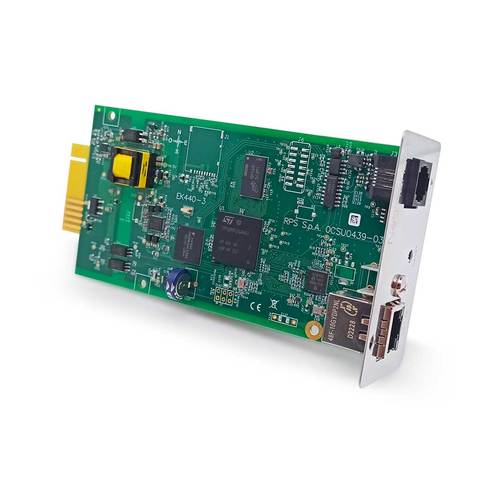 Permițând managementul sistemelor UPS conectate prin LAN 10/100/1000 Mb utilizând protocol TCP/IP, HTTP și SNMP, NetMan 208 este cardul de comunicații dedicat al Riello UPS. Destinat asigurării unei comunicații fiabile și sigure atunci când UPS-ul se integrează într-o mai largă infrastructură de rețea. Compatibilitate deplină cu aplicațiile de management și shutdown PowerShield³ and PowerNetGuard.
Simplu de integrat UPS în rețele.
Conectează sistemele UPS cu rețele medii sau mari prin Ethernet utilizând protocol Modbus/TCP sau BACNET/IP. Garantează o comunicație fiabilă și sigură între toate dispozitivele conectate.
Verificat pentru Virtual Networks.
Integrare simplă cu Vmware, asigurând managementul oricăror rețele virtuale și executarea sigură a shutdown atât pentru mașini virtuale cât și fizice.